Retrospective Recollection as a Source of the Great Creative Discoveries
Basic ideas of the retrospective recollection, which were creatively methodologically more thorough considered in the previous part of this creative article, shows that almost all, what a (GOOD) human being is able CREATIVELY TO IMAGIN, distinctly to present as well as to expound that idea and thoughts in the medium - mind dia reason, particularly, if it is retrospectively recollective character, that means, there is an inner feeling it was once upon a time experienced, also can be (later) POTENTIALLY realised (EXTERNALISED) in the living reality. However, this creative ability and talent, based on good intentions of creators (of) knowledge, is also not able to prevent (later) misuse of the created knowledge (in EVIL purposes). In any case, to the opinion of this creator of knowledge, if the great inventors (of past) would have been honest, and genuinely said, understood in terms of reconsidering of the entire creative process (DIA respectively recollecting), how TRULY them occurred their great ideas, as well as later creatively were carried out in the reality, in some form of NEW KNOWLEDGE [making a great creative breakthrough, that means, a revolutionary discovery], it will be shown, most of that came into being in accordance with the exposed basic ideas, principles and aspects of the concept of retrospective recollection. For sure, much more than it was created within the walls of numerous, mindually fused academic institutions. If you still were not convinced by the until now expounded, then it arises the following question: How many great creative breakthroughs truly were made within these too noisy [AND VERY EXPENSIVE, seen from the perspective of the invested resourses] "walls of this kind of natiocratic obscurity"? Not so much, particularly compared with their well-known 'scientific' creative (kre - cre chor) efforts of ridiculing, belittling, mocking and black-scorning most of the great inventors and creators (of past). Recall, in the previous creative article was distinctly emphasised that the so-called simpler mind is only capable to improvise, adjust, reproduce and imitate an already created knowledge, accordingly, in the best case to deepen it, but not to make revolutionary discoverings too.

Arising DIA Enlightenment of a Simplest One in Time DIA Space
DIA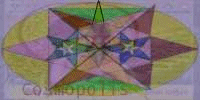 Guardian Angel of the Creation and Knowledge
I hope these remarks have breached and shed more light on the "darkness" and the related ignorance, regarding the process of coming into being a new knowledge by means of the retrospective recollection and reviving these sleeping dialectical (interactivelly creative) contents. Or said it in another way, by the afore discussion were outlined some shortcomings of the scientific approach, seen from the perspective of the pre-ancient methodological approach to creating knowledge, that is, their attempts to be explained such a puzzling (ghostly) dialectical content, which is still beyond understanding, by applying (exclusively) objectivistic methods. Namely, in the same way, it might be argued that it is ALSO not the objectivistic method to be presented and interpreted the process of creating knowledge, and the closely related creativity, as a result of the creative talent, creativeness and the gift of inventiveness of creators. This arises the "objectivistic" question, where these creative individuals find the creative talent, creativeness and inventiveness, revelation … , respectively, where does it come from, what is their real wellspring, and the similar questions as well, WITHOUT AN APPROPRIATE SCIENTIFIC (OBJECTIVISTICAL) ANSWER, UNDERSTOOD IN TERMS OF (CAP)ABILITIES OF PERCEPTION BY THEIR FIVE-SENSES.
Or uttering this 'SCIENTIFIC' DILEMMA ("to create or not to create") in another way, if inventors and creators (of) knowledge waited for getting an appropriate answer of scientific researches on these arisen questions, that means, previously to be falsifiable and verified the CREATIVE ABILITIES AND CAPABILITIES by means of repeated experiments, respectively, the creative capabilities of such a kind of scientists, there will be nothing invented nor created by the great creators and inventors. Instead of applying this unfruitful 'scientific' approach to creating knowledge, they chose continual pathway of accomplishing of their (great) creative ideas, respectively by these continually repeated success stories (of the accomplishing "EXPERIMENTS WITH UNKNOWN") also was successfully verified and validated in the creative reality this rare gift of God (creativity, creative talent ....), as well as proved feasibility of the creative conquering of challenges of unknown in a specific span of time DIA space. In other words, it was not done by means of the barren scientific statements, academic discussions, symposiums and congresses, although this misterious dialectic contents is still not so well understood and "documented" in terms of the five (already proverbial 'scientific') senses.